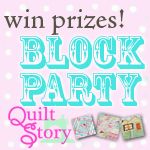 Quilt Story is hosting a Block Party this week, and it's just a fun way to showcase the blocks people are making. Traditional, modern, or creative -- there are some really great, and inspirational, blocks out there! Go see...after you look at mine, of course! :o)
(I made these blocks for members of a virtual quilting bee made up of some spectacular LA Modern Quilt Guild members.)
First, is my trifle block. This one nearly destroyed me. Seriously. I wrote about the emotional angst and the waffling and the emptiness
here
(I just re-read it, and I'm so glad I wrote about that block like I did!). Lori asked for blocks with dessert on a pedastal, and when she first gave us the fabrics, I thought I could could come up with something good. Lori is a really wonderful person, and I wanted to make something wonderful for her, you know? After quite a bit of vascillating, and questioning myself and my abilities, and even trying to give the fabric back to Lori and bow out (she wouldn't let me), I decided to create a
trifle
for her. A layered dessert on a pedastal. Before I cut into her fabrics, I used my own to make a sample block, and I'm SO glad I did. It allowed me to proceed with confidence as I made the block that I could proudly give to Lori.
I can't wait to see her finished quilt!
I seriously felt like a rock star when I was making this block. And I want an entire king-sized quilt made with these blocks. And I want it
rightthisveryminute!!
Natalie
asked us to make "porthole" blocks for her using a
fabulous technique by Ric Rac
. Circles. Pieced circles.
Scary!!
But, just like my trifle block, I decided to make a sample before I cut into Natalie's fabric. The fabric I wanted to use (Laurie Wisbrun's Tufted Tweets) just so happened to be pre-cut into a large hexie, but when I began, I intended to still piece it into my background as a circle. But then? I had a brilliant idea...why not piece the hexagon? Right into the background fabric!? And I kid you not, I felt like I'd just won the lottery!
The picture leaves a lot to be desired, but I have this block hanging near my sewing table so I can look at it and think about how much I enjoy modern quilting and how the challenges I've had learning new techniques have been SO very good for me.