I'm kinda bored with the scraps I have, so I've actually been on the lookout for some kind of friendly scrap swap. I think I've found it!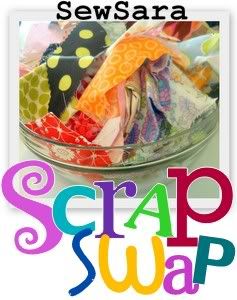 The idea is simple: sign up to send between 1 and 5 envelopes stuffed with scraps. Sara will give you the addresses of the people you'll send to. Wait
not so
patiently to get your envelopes back!
The sign-ups end at midnight March 4th, so if you're interested, head on over there.
I'm going to use mine for the
Stitched in Color Bottled Rainbows quilt-along
.
I probably won't be able to do it on her timeline, but I want to make a rainbow quilt, and I want to make a ticker tape quilt, so why not blend the two ideas, right?